TNT GOES VIRTUAL
The team keeps moving.
Team In Training now has several virtual options to choose from so that we can better support our teammates. Together we can beat cancer to the finish line!
TNT Live!
---
Though we may be physically apart, we remain united as a team always.
We are inviting everyone to stay connected through our virtual community in TNT Live! via our interactive training app, Sixcycle. Once registered, you'll be automatically subscribed to the training calendar that will house the live workouts hosted by our coaches from across the country. These workouts include YouTube live streams, Zwift rides and runs, Zoom workouts, and recosrded coach videos. Join us to stay emotionally connected and physically active.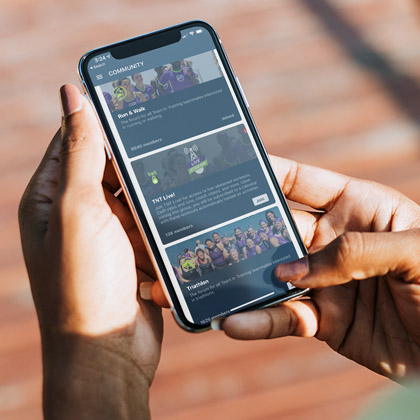 Access the app today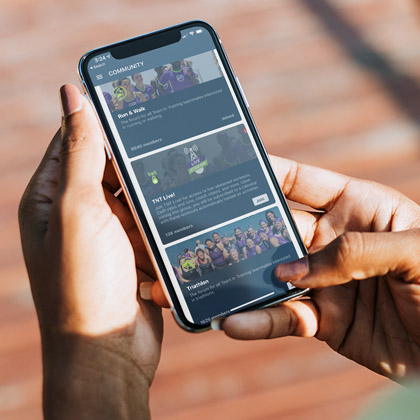 #MissionMoments
A celebration of cancer survivorship, Team In Training's #MissionMoments series is a social movement focused around inspiring fun and togetherness while supporting The Leukemia & Lymphoma Society's fight against cancer.
Share your favorite photos, funniest videos & tune in each afternoon to our IG LIVE recap featuring some of our most inspiring social influencers. Officially kicking off on Global Running Day, June 3rd and wrapping up on National Cancer Survivors Day, June 7th.
Global Running Day
June 3rd

Show us your Flat Runner! Post a pic of your favorite TNT race outfit, medal and who inspired you to cross the finish line.
INFLUENCER:
Liza Donnelly, Cartoonist for The New Yorker
June 4th

We want to see you get creative in the comforts of your own home & recreate a dry triathlon!
INFLUENCER:
Linsey Corbin, Triathlete
June 5th

Post your best trick with your 4 legged training partner in TNT gear.
INFLUENCER:
Dash the Dog & his owner
June 6th

The future is now: let's see your most creative TNT robots!
INFLUENCER:
Ashley Lopez, Social Influencer
National Cancer Survivors Day
June 7th

INFLUENCER:
Dr. Gwen Nichols, Chief Medical Officer, LLS
Register Today